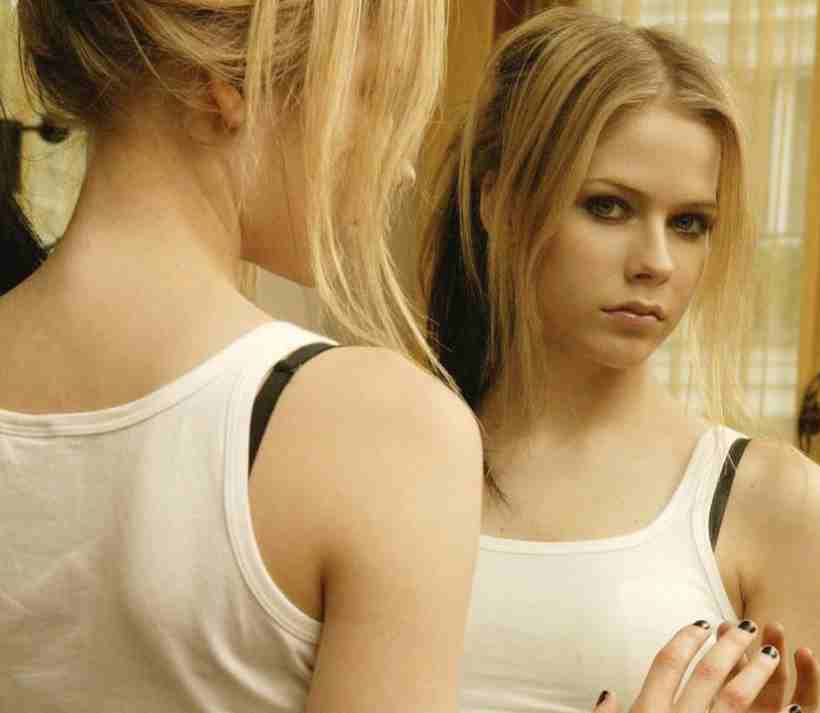 "I wish I were pretty," sighed she to herself,
And the mirror that hung on the wall.
"Oh, how I would look if my face changed its shape,
And my nose ceased appearing so small!"
~from A Girl and her Mirror, by Lucia M.
Mirrors are such wicked things. I believe if mirrors had never been invented, we would have a happier world. At least, happier females.
And a happier me.
..then again, without that quick look in the bathroom mirror, you wouldn't have found the piece of spinach between your teeth just before you went onstage to recite your speech last week, and things would have been just as unhappy. :]

Generally, though, mirrors are wicked things. They are brutally honest, and yet they are slyly deceiving. Have you ever had a day when you look in the mirror, and everything looks fine for once? Your hair is in place, your eyes are bright, your skin is clear..
..And then you get a picture taken of you later on in the day, and you discover you don't look as passable as you thought. To the World, this is not acceptable.
The World thinks so much of appearance. "Get that plastic surgery--you must have perfect skin! You must wear make-up--what?! You went out without mascara on?! I don't care if you starve yourself--you must wear a size zero! You must photoshop your pictures so at least you look like you are perfect."
..And what is really wrong with wanting to look beautiful?
Nothing.
God created His children--women, especially--perfectly, and though Sin has caused blemishes and imperfections, the beauty of His Image is still visible in every face. It would really be disrespecting and hurting God's work in us to fail to take care of ourselves and not care how we look (as in not showering, guarding our health, eating right, combing our hair, etc.). But, vanity is dangerous, and it can appear in more ways than one.
From ages twelve to fourteen, I was in this stage where I was extremely worried about my looks. Every time I passed a mirror or a window or even a puddle, I would glance in to examine myself. Now, normally this would be considered very vain, and I'm sure I looked it--but I wasn't looking in the mirror constantly to see how pretty I looked. I thought I wasn't pretty. I was constantly checking myself to see if maybe, just maybe, today I looked just a little bit pretty.
Needless to say, it was a type of vanity. I was so concerned with my looks, even if I wasn't admiring myself, that I found myself running to the bathroom at random times during the day just to check myself. And the day when I was satisfied with my looks never came.
..And it still hasn't come, in the sense that I love the way I look and regard myself as beautiful all of the time. I don't know what happened, but one day I just sort of "grew up," and realized that I was being utterly ridiculous. And I was not honoring my Lord with my actions. I knew about 'inner beauty,' and I wanted that for myself, but it wasn't until I wanted inner beauty more than outward beauty that I had a change of attitude. And 'inner beauty' is..?
Do not let your adorning be external—the braiding of hair and the putting on of gold jewelry, or the clothing you wear— but let your adorning be the hidden person of the heart with the imperishable beauty of a gentle and quiet spirit, which in God's sight is very precious.
(1 Peter 3:3-4)
Charm is deceitful, and beauty is vain, but a woman who fears the

Lord

is to be praised.
(Proverbs 31: 30)
..Something else that helped me to discover the truth about real beauty:
Elizabeth Taylor is thought to have been one of the world's "most beautiful women." She certainly was very gorgeous during her youth. And she set quite a store in her outward attractiveness. But then...

..not quite the same, is she?

"Marvelous? Look at me. I'm falling apart." She was once overheard telling a woman who complimented her on still looking "marvelous."

And someday, I too will be old; I will look the same as the most beautiful woman in the world eventually will, too. And everything will be different about me except for..

my heart.