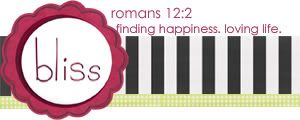 So...I am SUPER-OOPER excited to tell ya'll that I won my sweet friend
Maggie's
...
..."Blog Makeover" by Awel giveaway!! Click on the link above to go to her fabulous blog, "Bliss." Wow--and check it out: it's valued at $45! I was so surprised to learn that out of 179 entries, *my* number (79) was randomly drawn. I feel so blessed!
So. You may have noticed that I have some new polls up--yes, YOU need to help me decide how to re-make this blog! I know, I know--I've been re-making this blog alot lately, and you may be getting tired of all the changes. But this will be permenant, and by FAR the kewlest, I promise! I mean, take a look:
...Aren't they BEAUTIFUL?? I'm not sure if mine can be *as* fancy, =) but--we'll see! I'm really excited, if you can't tell. =D Anyways, please help me by voting on the polls on the sidebar...should I stick with the daisy theme? Have a photo of myself, or just graphics? :)
THANK YOU to Maggie Dear and Awel for doing this. Wow!
Blessings,
P.S. (If YOU want a chance to win a makeover, check out HayHay's 100th post giveaway! I won't be entering as I'm already covered, ;) but hurry on over there yourself!)